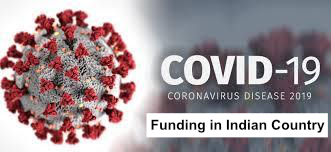 This page has been prepared with the support of Empire Health Foundation and the Montana Healthcare Foundation and is intended as a resource for the Indian Nations and Urban Indian Organizations of Northeastern Washington and Montana.
The links below will take you to a description of the programs and the funding that may be available to Indian Nations and Urban Indian Organizations. Where available, there are links that further describe the opportunities and how funding may be accessed. As further information is identified, this page will be updated. This includes links to specific requests for proposals (Notice of Funds Available). As time permits, synopses of these opportunities will be prepared to allow you to quickly evaluate the opportunity.
PLEASE NOTE with regards to site navigation: All information added after 4/3/2020 will be date stamped. You may look for new information by simple doing a search (CTRL + F) for the term "ADDED."
If you should have any questions or concerns regarding this information, or if you should need additional information and/or assistance, please feel free to contact Stephen Reichard or call 509-999-3091. If you may require assistance in pursuing any of these funding opportunities, for Montana-based Indian nations and Urban Indian Organizations, please contact Tressie White. For Washington-based Indian nations and Urban Indian Organizations, please contact Shivon Brite.
Urgent/New
Links to new items and items with deadlines will be posted here. As the deadlines pass, these links will be removed. Links to new items will be removed every three days.
The Federal Transit Administration announced $5 million in funding for public transportation in Indian Country. Read more here.
Washington State released an additional $5 million to assist tribes with the COVID response. To learn more, click here.
Finimpact has created a master list of grants available to small businesses. To learn more, click here.
A detailed synopsis of the USDA Rural Telemedicine/ Distance Learning grant opportunity due on 7/13 is available here.
The CDC has issued a guidance to assist communities in planning for a COVID-19 outbreak. Read more here.
HUD has issued extended forbearance to mortgage holders and renters adversely impacted by COVID-19. To learn more, click here.
The annual Native American Research Centers for Health Notice of Funds Available has been released. Learn more here.
ONAP will begin to accept applications for the ICDBG Imminent Threat funding opportunity beginning June 1 and will make awards on a rolling basis. To read more, click here.
USDA's Farm Service Agency will begin accepting applications from agricultural producers who have suffered losses starting on 5/26/2020. Read more here.
Clinics receiving H8E funding to expand COVID-19 testing must report by June 6 (a Saturday). To learn more, click here.
Guidance on maximizing forgiveness of Payroll Protection Program loans is available here.